Description
Details
Features
1. Professional Monopolar RF technology with high energy output.
2. Specially designed RF heads: 7 different sizes for professional treatment of body and facial skin tightening.
3. Portable design with LCD screen.
Introduction
The new generational Monopolar RF Facial and Body care System(RF MONA II)is an ideal and effective high-tech beauty equipment for beauty facial skincare and body slimming and shaping treatments. It generates thermal heat to activate collagen, has been proved to be one of the most effective and safest beauty and body care treatments that help with a non-surgical face lift, skin tightening, body slimming, and body shaping.
RF MONA II | Monopolar RF skin tightening and body slimming machine demo
Principle of Monopolar RF
The RF energy is diffused through the part of the body located between the plate electrodes. The oscillating fields produce distortion of molecules, rotation of dipoles, and vibration of ions. The movement of the molecules and ions generates heat within the tissues. The heat caused by the interaction of RF (Radio Frequency) energy and dermal resistance can reach dermal layer to heat up and stimulate the collagen fibers, making them regenerate and re-arrange, which can help the skin in better condition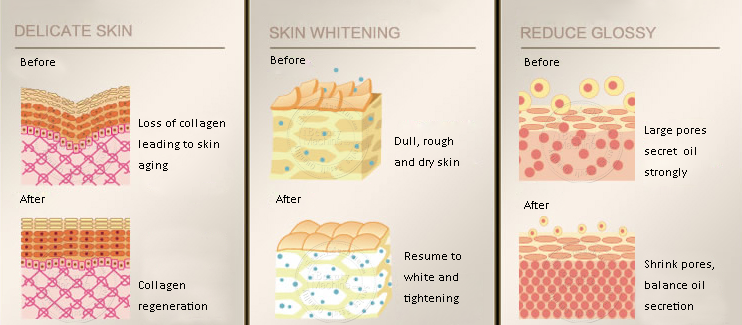 Monopole RF is a kind of polarized electronic movement which influences polar electrons in tissue to produce biological effect. At every time, it produces movements of polarized electrons, which will induce electrons, collision, revolving and twist then produce' biology heating'. High-frequency electrons produced by Radio Frequency, won't stimulate any inductive nerves, won't produce muscle shrinking, and only make the body produce heat energy, which is 'Diathermy'.
Monopolar RF Vs. Bipolar RF
1. Monopolar RF
In the 'monopolar' approach, the delivery electrode is the handpiece, and the large return electrode is fixed elsewhere on the body. Tissue has inherent resistance to an electric current, or impedance. Following Joule's law, when an electric current meets resistance it generates heat as an electrothermal reaction. When the temperature is high enough, over around 65°C, tissue is coagulated. This is the basic principle of RF skin rejuvenation, with the target damage being electrothermal rather than photothermal, as would be the case with laser or IPL energy.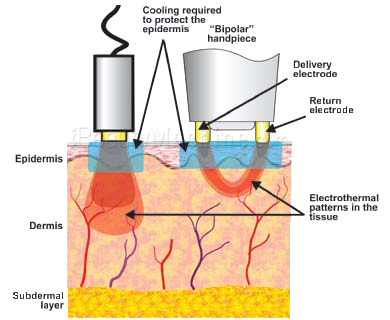 Fig 1: So-called 'Monopolar' and 'bipolar' RF effects in tissue shown schematically. The return electrode for the unipolar handpiece is not shown but would be attached elsewhere on the patient's body.
2. Bipolar RF
In the case of so-called 'bipolar' RF, both the delivery and return electrodes are incorporated in the handpiece. When the system is activated, the current flows between the handpieces in a kind of 'U' shape, the depth of the base of the 'U' being limited to one-half of the distance between the electrodes. These approaches are illustrated in Fig 1. In both approaches, as the RF electrodes are associated with hot spots, there would be severe electrothermal damage to the epidermis, resulting in burn injuries, and therefore these approaches required aggressive skin cooling to protect the epidermis while allowing electrothermal damage to be created in the dermis. The major problem with these approaches to RF rejuvenation was the limited depth of electrothermal damage into the dermis, limited by the power level in the monopolar and the distance between the electrodes in the bipolar approach. Multiple treatments were necessary, or the power level had to be so high the process was extremely painful.
Application
Monopolar RF Body Shaping System can be used on the Face, Neck, Arms, Abdomen, Waist, Legs, Buttocks
1. Face Lifts/Skin Tightening and Rejuvenation Treatment
This radiofrequency skin tightening machine thermalizes the deep dermis level to activate the cell's function, promotes the blood circulation to improve oxygen and nutrition supplement, improve lymphatic drainage to remove toxin and balance water retention, stimulates regeneration of collagen, and promote metabolism and cell regrowth.
Benefits that can be expected:
a. Eliminate eye pouch and black rim (dark circle) and fine lines
b. Face Lift, Skin Tightening and Brightening
c. Face toning and elasticity improving
d. Remove acne and pores
2. Fat Dissolve and Cellulite Reduction Treatment
By utilizing diathermy, the radiofrequency thermal generates friction heat. This action will improve the blood circulation and oxygen availability, promote lymph drainage and toxin removal, promote the metabolism of fat, eliminate cellulite bumps and lumps and finally achieve weight loss.
Benefits that can be expected:
a. Fat burning
b. Improve constipation
c. Reduce cellulite bumps and lumps and bulges
d. Tighten the bottom skin of postpartum and remove orange peel skin
3. Pain Release Treatment
The radiofrequency diathermy thermal effectively improves the blood circulation of the muscles, promotes fiber elastin, and helps to anchylosis, release pain and tiredness.
Benefits that can be expected:
a. Help muscle pains
b. Relax arthritis and anchylosis
c. Relax tiredness
4. Skin cooling down
Result(Before and After)
FAQ
1. How long will it be effective?
A: It can activate collagen growth, only one-time treatment, can see the obvious effect.12 times as a period of treatment (once a week), after treatment, collagen continues to regenesis to maintain sustainable results.
2. What is the feeling of the treatment?
A: Skin will feel a bit warm, with no pain, after treatment, the skin will turn a bit red, and after several minutes, it will disappear. Now the skin is very firm and smooth.
3. Any care process after treatment?
A: RF therapy is non-surgical; absolutely does not affect daily lives. As long as using moisture nutrition and sunscreen daily, can help keep the skin young and healthy.
4. What will change in skin and appearance after the treatment?
A: After treatment, 87 patients' skin will have enough collagen fibers to contract, so we can see the results of skin firming immediately.
Next, because the dermal layer of fibroblast cells regeneration of new collagen, so after 6 months, it will continue and sustained to lift the bagged skin, while reducing wrinkles and reshape tight face lines, let your appearance imperceptible getting younger.
5. How long can the effects last?
A: The study noted that satisfactory results can be maintained for at least 5 years even longer.
Blog
1. How to use the conductive (negative) panel for monopolar RF treatment?
2. Difference between Microcurrent facelift and Radio Frequency face lift
Specification
Specification
| | |
| --- | --- |
| RF Probe | 1 piece of Mono-polar RF hand piece with 3 tips, 1 piece of Monopolar RF Probe with 4 tips |
| RF Type | Monopolar |
| RF Frequency | 0.3/0.5MHz |
| RF Output Model | pulse & continue |
| Electroporation Frequency | No |
| Photon | No |
| Display | LCD Screen |
| Battery | No |
| Charging time | No |
| Voltage | AC 100~240V 50/60Hz |
| Power | Max Power: 200W |
| Materials | ABS plastic |
| Package Size(cm) | 38*38*31 |
| Gross Weight | 8.5Kg |
Shipping&Payment
Shipping
Normally express door-to-door air shipping by DHL/FEDEX is used for most of our shipments as it's fast, safe, and convenient. You can easily track your shipment online.
Orders are processed in the order they are received. An order confirmation email containing your order details will be sent. When your order ships, you will receive a confirmation email containing the shipment tracking number. For express door-to-door air shipping by DHL/FEDEX, delivery time is 3-7 business days.
We provide shipment service to over 100 countries including the USA, Canada, Australia, Chile, Ecuador, Japan, Spain, Germany, UK, Finland, etc…
We ship worldwide via courier (DHL/FEDEX/UPS), EMS, Airmail, Air cargo, or Ocean shipping. Ocean shipping delivery times are 20-40 business days, not including weekends and holidays.
If you need other shipping methods such as EMS, airmail, or air cargo, please get in touch with us for assistance.
Why not provide free shipping?
As the factory directly selling, we are offering the best price possible as we can. There is no commission fee and no hidden charges. Our pricing system is transparent and carefully calculated. For shipping costs, different countries have different shipping rates. Different package weights also result in very different shipping rates. We have a network of logistic service providers (DHL/FEDEX/UPS) which ensure the best shipping rate, fastest shipment, and reliable service. The shipping cost is automatically calculated when checking out.
Warehouse working time
: 9:00 am~ 6:pm (Monday to Friday; GMT+8).
Note:
Due to the complex of international shipment, there are common occasions where the lead time is substantially extended due to customs and local post office handling. The case of delay is particularly high during periods of public holidays, festive seasons, and adverse weather conditions. Please understand that we do try our best to dispatch orders as soon as they are received, and we thank you for remaining patient while your order is being delivered.
Payment
We accept payment by Credit Card, T/T(Wire Transfer), Western Union, and MoneyGram. After the order is placed, a confirmation email will be sent to you. Please check the email and confirm the order and delivery address. The order will be processed once you receive your confirmation. You can log in to your account and click" Orders" to check the order status. Please make sure you have sufficient information about the product and know all the terms and conditions of the purchase before making the payment. If you are not happy with the order and the product, you can ask for a refund after receiving the package. Our customer support will assist you with it.
Please note we DO NOT accept Credit Card payments for product value of a single unit over 1,500 USD. Also
COD payment is not accepted
.
For a single unit value over 1,500 USD, please choose payment by T/T, Western Union, and Moneygram. All of these payment methods are widely used for international business. Our operators are happy to take your order per phone every business day from 9 a.m. to 6 p.m (UTC).
Please
click here
to learn more about payment options and how to make payments online.
Taxes and Duties
We do not add taxes, VAT, or any other hidden charges. You pay us what you see on your invoice, for example, Goods Subtotal + Shipping Costs (does not include duties). Please find out as much as you can about import taxes in your own country before purchasing an item. In special cases, you may need to pay import duties on certain goods. For assistance on any of this, you can contact us for further assistance.
Is there any way we can avoid or reduce importation duty?
For most countries, the answer is Yes. Please contact us directly for further assistance.
Reviews
Tags
Product Questions
Total 7 question(s)
Hello, I was wondering the difference in power/ intensity of this machine vs your Monopolar RF body shaping system.
Question submitted by: Abigail Opel on: 2023-04-27 11:21:02
Basically, it's the same. RF MONA II is a promotion model, so the price is better.
Answer submitted by: Sales on: 2023-04-28 16:06:17
When i was 35 years old i had i have cellulite and fat in the butt and abdomen i did a diet to remove those fat and slimming but useless all that i lost a lot of weight is this device will remove those fat and slimming without the need to work diet do you recommend a better device ?
Question submitted by: Haiaa on: 2018-10-01 21:50:35
Hi Haiaa,
Thanks for your inquiry.
The mono polar RF did have good result on cellulite reduction. But it does not have a very good result on fat reduction.
So if you want to remove the cellulite and tightening the skin, it's very good choice to use this RF mona II.
But if you want to reduce the deep fat, we'd like to suggest you consider cavitation machine.
Answer submitted by: John Chang on: 2018-10-03 13:03:03
Would like to purchase this Mona II what other strong monopolar rf devices could you suggest?
Question submitted by: Kristy Giovanelli on: 2018-03-09 10:47:25
Sorry, our factory has stopped producing MonoPolar RF device since long time ago.
Answer submitted by: Sales Team on: 2018-03-16 16:34:04
Hello,

I was looking at this machine and i wanted to know when will it become available for purchase?
Currently says "out of stock"

Thank you
Question submitted by: Elinay Labrada on: 2018-02-12 04:21:54
Our factory has stopped manufacturering this machine since long time ago, the minimum order quantity to restart production is 10pcs.
Answer submitted by: Customer Service on: 2018-02-17 23:57:49
How Is the frozen head used? Does it cool the skin DURING treatment, to prevent damage to the skin? Or is it used afterwards/
Question submitted by: lorraine on: 2016-09-22 08:18:07
Dear Customer,
For the frozen head, you can use it in target area before RF treatment, normally 10 to 15 minutes, patients will feel very comfortable during RF treatment if have a cooling treatment first.
Therapies that use cold temperature can stimulate circulation, then followed by radio frequency, it will be much more effective than only radio frequency treatment.
Answer submitted by: iBeautymachine.com Support on: 2016-09-28 13:44:21
I purchased this RF MONA II from here, but I felt electric shock when I use it? Does there something wrong?
Question submitted by: Martha on: 2016-09-28 12:00:42
Dear Customer,
There are two things which are very important during treatment.
1. please take off all your jewelry including ring, watch, bracelet, ear-ring, necklace etc. before treatment.
2. Please hold negative pannel(handpiece) closely during treatment, if you touch it not closely, you may feel electric shock.
At last, we don't suggest you use any RF machine for these patients who have superficial metal or other implants in body
Answer submitted by: iBeautymachine.com Support on: 2016-09-28 13:04:08
hi I already purchased the RF mini II from ur website previously. and would like to get something stronger or of higher intensity for use on other parts of the body. but i notice the RF frequency only goes up to 1.2 MHz, which is not too different from the RF mini II.

i was wondering if this would be a good product or is there something else you can recommend me? would the Monopolar RF facial body care system be a better option? thank you
Question submitted by: nisa esmail on: 2016-07-16 00:47:07
For Monopolar RF and Multipolar RF, rf mini ii is a multipolar rf machine, the treatment principle are different, if you want a much better result rf machine, you can consider this monopolar rf, the treatment is warm and comfortable.
Answer submitted by: Susan on: 2016-07-18 13:00:30
Ask a question
1 Point

for writing a tag for this product You will earn
You may also be interested in the following product(s)
*Disclaimer: Results may vary by individual. There is no guarantee of specific results.
Great purchase, worth every penny!
*Easy to use and gets hot and too soon to tell 100% but I do seem to see tightening. the only thing is that when i receive the device, the little probe is broken, but they ship me another one immediately, great service.
Good experience with this amazing machine
*A little accident, I chose the wrong option of the adapter when I submitted the order. Seller contacted me this matter before shipping and helped me change to the right one for my location. Thank you so much. You've earned my trust. I like the machine. The suit is nice. No troubles in the operation. Thanks so much for the free gift.
*Great RF skin tighteing device
*receive the product in good condition. very great service. still don't use the machine, if it works well, will recommend to my friend.
*the treatment feels very comfortable, i think the monopolar RF treatment is better than bipolar and multipolar RF, i have done bipolar and multipoar rf treatment in my local spa.
*the rf warming is so comfortable. I can see the cheeks toned right after the therapy. fantastic! Thank you very much.
*Surprise! It is so neat. the treatment is very comfortable, use the skin tightening gel as the Susan suggested before the treatment, i can do it by myself, very convenient.
*strongest machine I ever bought. the rf is new to me it seems to tight the skin instant. thank you for answer my questions. i will study it further. the functions really excite me.
*The unit is delivered safely. I have to say they are so professional in packaging. Everything is wrapped well. The carton is so strong. I am now using it to store magazines. It's very good.
Great order experience.
No complaint to the machine. It works well like it supposed to be. Very good quality. It is a recommended store.
*I love this device. I have already seen improvement as surprising as that seems. The representative, Susan , was enormously helpful and I felt prepared to use. I've already recommended it to a friend
*I bought this device for my mother. This is a fantastic product. It arrived with no shipping issues and on time. Her skin is looking so beautiful. She says this is easier to use than going to a dermatologist. This is A+ in my book!
*The equipment is very good quality. Everything was packed very well and the quality is really good. The treatment feels very wonderful. Clients all enjoy it. A few ladies had the face turned red after it and I used ice pack. I contacted the store. They confirmed this was a good method. The redness disappeared naturally in an hour. Most clients come here once per week and now more and more of them even come twice. I am so exciting. It helps my business and reputation a lot. I really recommend this equipment.
*the rf warming is so comfortable. I can see the cheeks toned right after the therapy. fantastic!
*Great Results!!! This really works. I bought it to address the loose skin on my arms. In just a week my arm looks much better. I even use this on my face. I have other face-lifting/treatment machines. They all work. However, I found that this monopolar rf machine has great results. It has even helped to lift and tighten the skin under my eye. It has also worked well to tighten loose skin on my neck..
Love it!!
*First I want to say that I was very apprehensive about trying such a product. Although I did hear great things about it. I finally used it and OMG its amazing. Your face feels and looks so awesome afterwards. I cant believe I waited so long before trying this product. I highly recommend it. And the price is fantastic
*It came within a few days. I have been using it for two weeks , it I can see the difference in my "laugh lines", Works really well and my face is younger and smoother