Description
Details
Features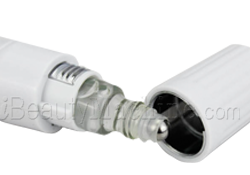 No Needle Mesotherapy
Much better effect for conduction beauty products than ION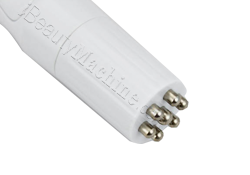 Integrate Two Technologies
Multi-Polar RF: better energy and penetration than Bipolar RF
Electroporation: non-surgical face lifts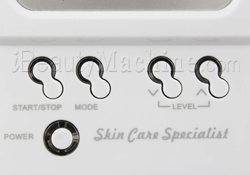 Easy to Use with Operation Panel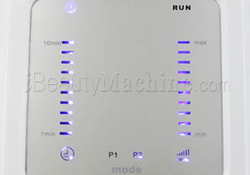 Adjustable Time and Level
Choose the best level and treatment time for you

Compact Design
For personal use, Cost Effective with great result

No Side-effect
no pain and no downtime

Introduction
This RF MINI II is an innovative beauty machine combined with Multi-polar RF and Electroporation technology. So far, it is the only system in the market combing the two functions in only one handle. RF and Electoporation treatment are mostly performed in beauty salons with expensive cost for each session. Now with this system, you can achieve the same effect with the cost of only one session. The compact portable design enable you take it anywhere and take care of your skin anytime.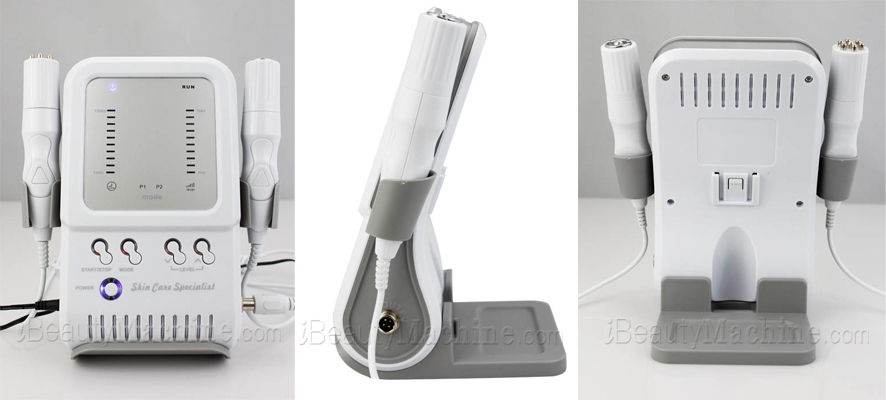 Principle
1. RF Principle
The heat caused by interaction of RF (Radio Frequency) energy and dermal resistance can reach dermal layer to heat up and stimulate the collagen fibers, making them regenerate and re-arrange, which can help the skin in better condition.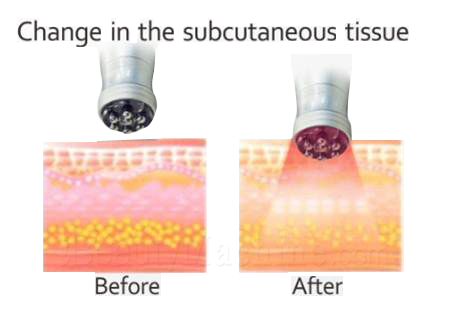 2. ELECTROPORATION (EP)
"greatly enhance absorption of beauty essence/products "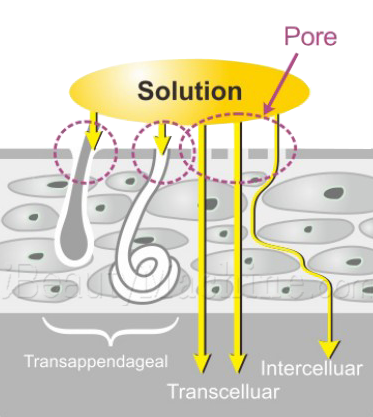 Electroporation is a way (method) of transmitting substances which hold certain amount of molecules (below 40,000 Dalton) through cell membrane. Electronic pulse manipulates (disturbs) phospholipids bilayer and it makes temporary pores at skin layer. Then, the drugs penetrate into internal cell through the pores. The principal of electroporation is that pore is closed when electronic pulse stop.
Electroporation does not change biological structures and functions of cells and is used as a non-chemical way of transmitting DNA and various outside substances into the living cells.
Application
1. Skin Lifting, Skin Tightening, and Skin whitening;
2. Beauty products and skin-effective drugs injection
3. Collagen stimulation and generation;
4. Wrinkle and Fine Lines removal;
5. Face and Figure restructuring;
6. Large pore shrinkage
Result(Before and After)
For RF MINI II,it is Multi-Polar RF device that have better energy and penetration than Bipolar RF. RF is radio frequency which can penetrate epidermis into deep dermis. The radio frequency produces heat and the temperature reaches to 45-65 degree Celsius. This leads to subsequent contraction of the collagen tissue and makes the loose skin and wrinkle tightened immediately. Moreover, the treatment effect causes collagen re-growth and reconstruction.
Meanwhile, it renovates old and damaged collagen; realizes the immediate effect of skin tightening, long-term wrinkle reduction and ease anti-aging.
FAQ
1. What should you do before the treatment?
Before your treatment, you should apply scream (like emulsion, essence) or Aloe gel for RF treatment. During the treatment, it is normally for you to feel warm against your skin.
I am sorry we don't provide any gel for oversea market as they are liquid products which are not possible for air shipping. It's easy for you to purchase the ultrasound gel in your local. They are provided in beauty shop or clinics.
2. What areas can be treated?
This machine can be used both on face and body. You can use the machine mainly on cheek, eye, forehead, lip, neck and acne scars, abdomen and waist.
3. What is the precaution?
Do not be combined with other electrical appliances. Do not repair, disassemble or modify the Controller body yourself. Do not handling and removal of equipment code with wet hands. Do not drop or bump heads with hard objects. Do not fix long in the same area in use equipment, must be rubbing slowly and continuously. Do not use parts of the uvula or eyes. Operate with Radio-frequency Cream.
4. Why should you use the gel?
The gel is to help smooth operation and better energy conduction. To achieve good treatments, you'd better use the gel before treatments.
5. How often can you have a treatment?
As for the skin tightening and wrinkle removal treatment, the best interval period is 2 weeks because the growing circle of epidermis is two weeks. Normally 10 sessions suggested for one course of treatment.
6. What effect do you expect?
After one treatment, the heated subcutaneous fiber shrinks instantly, therefore skin become smooth, compact and elastic. After one course of treatment; Skin becomes compact and flabby skin is improved.
Specification
Specification
| | |
| --- | --- |
| RF Probe | 1 piece of lotion conduction probe, 1 piece of Multipolar RF probe |
| RF Type | Tripolar/Multipolar |
| RF Frequency | 1MHz |
| RF Output Model | continues |
| Electroporation Frequency | 2.4KHz |
| Photon | No |
| Display | LCD Screen |
| Battery | No |
| Charging time | No |
| Voltage | AC 220-240V/50Hz |
| Power | 25W |
| Materials | ABS plastic |
| Package Size(cm) | 29*29*12 |
| Gross Weight | 2.5Kg |
Shipping&Payment
Shipping
Normally express door-to-door air shipping by DHL/FEDEX is used for most of our shipments as it's fast, safe, and convenient. You can easily track your shipment online.
Orders are processed in the order they are received. An order confirmation email containing your order details will be sent. When your order ships, you will receive a confirmation email containing the shipment tracking number. For express door-to-door air shipping by DHL/FEDEX, delivery time is 3-7 business days.
We provide shipment service to over 100 countries including the USA, Canada, Australia, Chile, Ecuador, Japan, Spain, Germany, UK, Finland, etc…
We ship worldwide via courier (DHL/FEDEX/UPS), EMS, Airmail, Air cargo, or Ocean shipping. Ocean shipping delivery times are 20-40 business days, not including weekends and holidays.
If you need other shipping methods such as EMS, airmail, or air cargo, please get in touch with us for assistance.
Why not provide free shipping?
As the factory directly selling, we are offering the best price possible as we can. There is no commission fee and no hidden charges. Our pricing system is transparent and carefully calculated. For shipping costs, different countries have different shipping rates. Different package weights also result in very different shipping rates. We have a network of logistic service providers (DHL/FEDEX/UPS) which ensure the best shipping rate, fastest shipment, and reliable service. The shipping cost is automatically calculated when checking out.
Warehouse working time
: 9:00 am~ 6:pm (Monday to Friday; GMT+8).
Note:
Due to the complex of international shipment, there are common occasions where the lead time is substantially extended due to customs and local post office handling. The case of delay is particularly high during periods of public holidays, festive seasons, and adverse weather conditions. Please understand that we do try our best to dispatch orders as soon as they are received, and we thank you for remaining patient while your order is being delivered.
Payment
We accept payment by Credit Card, T/T(Wire Transfer), Western Union, and MoneyGram. After the order is placed, a confirmation email will be sent to you. Please check the email and confirm the order and delivery address. The order will be processed once you receive your confirmation. You can log in to your account and click" Orders" to check the order status. Please make sure you have sufficient information about the product and know all the terms and conditions of the purchase before making the payment. If you are not happy with the order and the product, you can ask for a refund after receiving the package. Our customer support will assist you with it.
Please note we DO NOT accept Credit Card payments for product value of a single unit over 1,500 USD. Also
COD payment is not accepted
.
For a single unit value over 1,500 USD, please choose payment by T/T, Western Union, and Moneygram. All of these payment methods are widely used for international business. Our operators are happy to take your order per phone every business day from 9 a.m. to 6 p.m (UTC).
Please
click here
to learn more about payment options and how to make payments online.
Taxes and Duties
We do not add taxes, VAT, or any other hidden charges. You pay us what you see on your invoice, for example, Goods Subtotal + Shipping Costs (does not include duties). Please find out as much as you can about import taxes in your own country before purchasing an item. In special cases, you may need to pay import duties on certain goods. For assistance on any of this, you can contact us for further assistance.
Is there any way we can avoid or reduce importation duty?
For most countries, the answer is Yes. Please contact us directly for further assistance.
Reviews
Tags
Product Questions
Total 2 question(s)
Hi how is this compare to the Thermage mini home use ?
Question submitted by: Karola on: 2019-01-03 00:15:21
Hi Karola,
We'd like to suggest you consider thermage home use if you have enough budget
Answer submitted by: John Chang on: 2019-01-03 17:18:55
Hola, quisiera saber cuántos Mhz tiene y cuantos grados centígrados puede alcanzar. Es más efectivo para eliminar manchas y arrugas (tengo 42 años) que este otro aparato?
https://www.ibeautymachine.com/multifunction-home-use-facial-skin-care-beauty-device.html.
Gracias por su respuesta

Question submitted by: Carolina on: 2018-06-30 22:51:34
2MHz
Answer submitted by: iBeautyMachine.com on: 2018-07-04 17:59:29
Ask a question
1 Point

for writing a tag for this product You will earn
You may also be interested in the following product(s)
*Disclaimer: Results may vary by individual. There is no guarantee of specific results.
rf review
*a great product! you can see results almost immediately even with just 1 treatment. I would recommend this to everyone
*the device is very light and in my opinion, there will be no effect because the fist impression to me is only a plastic made things. on the opposite, my skin becomes more and more whitening, use it for beauty liquids conduction.
Lambert
283 10 2015 11:07
*feel warm and tingling when do the treatment, just do one treatment, expect the result.
*Love Love Love this device! I can definitely tell a difference with my skin's texture. I used it on my daughter during a facial and she noticed how much better her skin looks. I will be buying another one in the very near future for my skincare practice.
*the item is fine and easy to use. I am waiting to see results. Receive it very quick, and also receive the free gift, so great, will recommend the shop to my friends.
Whitehead
278 10 2015 12:16
*Have been using for just over two weeks and can already see results. I actually find it relaxing to use now, very little stinging. This is the fist time i Purchased through ibeautymachine.com, delivered very fast. I did contact them about an issued, it was addressed very quickly. So I give them five stars for a great product and also excellent customer service.
Baracael
147 05 2015 08:51
*I am exciting to receive it. It's a gift to mother. She enjoys it so much and use it almost every day. She's crazy to it. I am so happy to buy this thing.
*It came within a few days. I have been using it for two weeks and it works I really it I can see the difference in my "laugh lines"
*this is what I want. I love it. fast shipping and great service. I am using collagen essence with the device. 15 min mesotherapy and then 15 min rf. three times a week last month. now it is the third week and I change to have two times a week cause I see results. I will recommend to more friends.
*Works very well on the face for firming.
*This machine works very well to stimulate circulation, penetrate products and serums, and firm and tone the face. It feels very unusual, unlike any facial machine I've used before. Sort of a tingly electrical feeling with a bit of a suction-y feeling. Not unpleasant, and it's good that there are 4 levels to choose from.
*I just love having that spa experience, without the spa price, at home. I really liked how well this product worked. I'm seeing results almost instantly. It's like a mini facelift at home, I love it! It's safe & comfortable & reduces sagging skin, age spots, restoring your skin to its natural, youthful beauty.
MONIQUE
181 07 2015 11:28
*Used twice so far I've noticed smaller pores, tighter skin.
Su Ting
120 05 2015 11:19
*We truly love this little device!
It does great work for face lift!!
janiche
364 12 2014 11:53
*It does what I bought it for.. especially it is fairly priced. Good tool to help getting any product into the skin easier.
*Was skeptical at first that this would work. But so far so good. I had deep wrinkles in my forehead and they are starting to diminish
Dimitry
284 10 2014 11:18
*This machine works very well to stimulate circulation, penetrate products and serums, and firm and tone the face. It feels very unusual, unlike any facial machine I've used before. Sort of a tingly electrical feeling with a bit of a suction-y feeling. Not unpleasant.
*I bought this device for my wife and the results have been outstanding. She has really nice skin, but wanted a few touch ups. This managed to take care of some of the few wrinkles she had as well as blending away a minor scar. It is a product that actually does what it is advertised to do...what a concept!
*I can really feel the effects of the lift when used with a good serum. I've used it on my arms where they were slightly creepy and it has almost disappeared. It is also great under the neck for the loose skin.
*It came within a few days. I have been using it for two weeks and it works I really it I can see the difference in my "laugh lines" So happy.