Description
Details
Feature
Equipped with 4 different Matrix RF tips, designed for different areas treatment.
Higher and better energy output, 8 energy density levels adjustable
Treatment time adjustable, maximum 30 minutes.
Noninvasive treatment with long lasting result, much better than other collagen supplement
Easy to carry, can do the treatment everywhere.
Comfortable treatment, fast effect and low cost.
Introduction
RF Thermagic is a noninvasive treatment, meaning there is no cutting of the skin to perform it, which utilizes mono polar radio frequency energy to tighten and tone the body and improve its contour. RF Thermage works by heating the under layer of the skin, known as the dermis. This heat causes collagen creation, called neocollagenesis. The new collagen makes the skin look firmer & tighter and improves the overall texture of the skin and the body shape. Unlike lasers, RF Thermage Body procedures work on all skin types and colors.
The RF Thermagic procedure heats a large volume of collagen in the deeper layers of the skin and its underlying tissue. New and remodeled collagen is produced for further skin tightening, you can get a healthier, smoother skin and a more youthful appearance.
Technology
Thermagic rf treatments are all about energy focusing radiofrequency energy to kick start the body's own natural renewal process. It's a combination of heat energy to treat deep tissue, to protect the skin surface and deliver better patient comfort.
The tip delivers Thermage's unique radiofrequency (RF) technology, which safely heats the depth of 2.6-3mm under the dermis, collagen rich layers of your skin. The heat helps tighten existing collagen and stimulate the formation of new collagen over time, which reduces sagging, renews contours, and improves the smoothness and texture of the skin's surface.
When RF electric actives on the skin tissues, the temperature of the subcutaneous fat is 8 times more than that of dermal tissues, the fat tissues are softened, shrink and then break down after absorb the energy, the procedure makes the skin become more flexible.
Design
1. Ergonomic handle design, make the treatment more convenient and comfortable.
2. There are 4 tips together with the device, one 10mm*10mm for eyes treatment, one 15mm*15mm for facial treatment, one 20mm*20mm and one 22mm*22mm for body treatment.
Comparison
Difference between Fractional RF and other types of laser treatments
Fractional RF differs from most fractional resurfacing lasers in that it does not use laser light to destroy surface skin irregularities. Using radiofrequency energy, M*iBeauty RF Fractional RF penetrates deep below the skin's surface to heal from within. This procedure stimulates collagen production, allowing the skin to heal itself over time.
Difference among Fractional RF, Monopolar RF, Bipolar RF
1. Monopolar RF
In the 'monopolar' approach, the delivery electrode is the handpiece, and the large return electrode is fixed elsewhere on the body. Tissue has inherent resistance to an electric current, or impedance. Following Joule's law, when an electric current meets resistance it generates heat as electrothermal reaction. When the temperature is high enough, over around 65°C, tissue is coagulated. This is the basic principle of RF skin rejuvenation, with the target damage being electrothermal rather than photothermal, as would be the case with laser or IPL energy.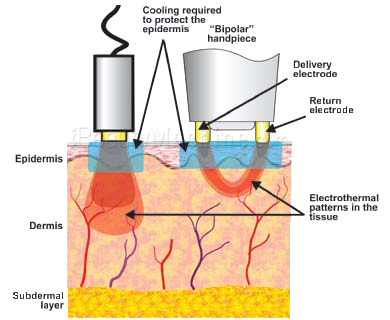 Fig 1: So-called 'Monopolar' and 'bipolar' RF effects in tissue shown schematically. The return electrode for the unipolar handpiece is not shown, but would be attached elsewhere on the patient's body.
2. Bipolar RF
In the case of so-called 'bipolar' RF, both the delivery and return electrodes are incorporated in the handpiece. When the system is activated, the current flows between the handpieces in a kind of 'U' shape, the depth of the base of the 'U' being limited to one-half of the distance between the electrodes. These approaches are illustrated in Fig 1. In both approaches, as the RF electrodes are associated with hot spots, there would be severe electrothermal damage to the epidermis, resulting in burn injuries, and therefore these approaches required aggressive skin cooling to protect the epidermis while allowing electrothermal damage to be created in the dermis. The major problem with these approaches to RF rejuvenation was the limited depth of electrothermal damage into the dermis, limited by the power level in the monopolar and the distance between the electrodes in the bipolar approach. Multiple treatments were necessary, or the power level had to be so high the process was extremely painful.

3. Fractional RF
Fractional RF releases radio frequency energy in capacity form and meantime it acts onto skin surface and underneath by scanning rapidly in dots, to stimulate the positive and negative ions in the cells to rub and create heat, make the collagen tissue heat, accelerate blood circulation of dermis and subcutis, to make the fiber tissue heated and contract instantly, stimulate the collagen to keep regenerating and reorganizing constantly, to make the skin healthier and more flexible. At the same time, the epidermis tissue will re-arrange, to generate new skin cells, to get the function of whole face skin resurfacing.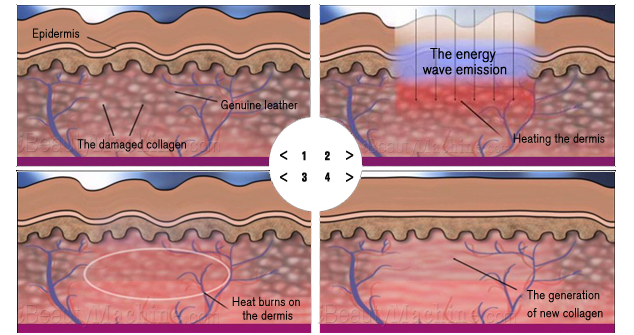 Application
Eyes
- Fine lines, wrinkles removal and smooth our brow line; treat on the upper and lower eyelids and make eyes look youthful and charming.
Face
- Treatment for loose jowls, sagging skin. It can smooth fine lines, wrinkles, tighten skin, rejuvenate skin and remodel collagen for overall skin. It is also helpful for pigmentation reduction and scar improvement.
Body
- Treatment for sagging skin and unwanted bulges and dimples. A non-invasive way to smooth the skin on our bodies and even temporarily improve the appearance of cellulite. Improve the body function (improve vascular and lymphatic circulation)
Result(Before and After)
Testimonial
"This is a good product it preforms as well as can be expected"
I had a professional thermage treatment done and it worked. It did rejuvenate my skin, but you would need a lot of them to erase deep wrinkles. Nonetheless, so, after seeing the results I looked into home tools and found this one. This machine gets hot on your skin if you don't use a gel with it. I walk it all over my face spending at least 10 seconds in each spot. In my case, since I know how hot the professional treatment works, I look for the heat, but for beginners, start at the lowest temperature setting, and then move it up. Remember that the heat is an indicator of the machine actually doing its job. Heat under skin equals collagen production equals youth. I am keeping this machine because it works.
"A little machine that delivers BIG results"
I purchased this machine after reading all the excellent reviews but I was very skeptical. They provide excellent customer service. I had a sebaceous cyst removed from my right cheek last year & my surgeon to her credit did a wonderful job & I have been diligent in making sure that there is only the smallest trace of a scar. Even after my first use the next day my skin felt tighter & it looked like I was wearing foundation. I have now used it 4 times & I can't even see where the incision was made on my face. You do need a conductive gel for it to work. I am so happy with my purchase that when I next see my surgeon I am taking this machine with me to show her.
FAQ
1. What is Thermage?
Thermage is a safe, non-invasive procedure that's clinically proven to help smooth, tighten and contour skin for an overall younger looking appearance, by stimulating natural renewal of collagen the treatment delivers natural looking results with little to no downtime - on all skin colors, face and body, forehead, eyes, jaw line and jowls, all in a single procedure. Since there is no surgery involved you can generally return to normal activities immediately following the procedure.
2. Is the treatment safe?
The treatment has been shown to be very safe, with no significant side effects in all skin types. During treatment, many patients feel a warm, prickly sensation as energy enters their skin. You will feel warm during the treatment and you might experience what can be compared to a pin prick or rubber band snap with different pulses. Some areas will experience these sensations more than others, but never should you feel so much pain that the procedure is intolerable.
After treatment a pink or red "sunburn" appearance and feeling is also common. Topical anesthetic cream is used to reduce discomfort during treatment.
3. Is everyone a good candidate?
It can be used on all skin types and colors. Some skin conditions (such as eczema) may prohibit patients from receiving the treatment.
4. What area can be treated?
Most patients elect to have treatments to their face, although some patients also have their necks and/or chests treated. The only areas that are not able to be treated are the eyelids and lips.
5. What are the contraindications to the treatment?
There are a few conditions, some internal such as electrical and metal implants, others refer to conditions of the skin, injected materials and skin diseases, bleeding disorders, conditions aggravated by heat, certain drugs taken by the patient and more. It is preferable not to treat acne scars in patients with active acne to prevent a flare up in the condition.
6. How often do you use this device on the face?
The best treatment interval is 2 weeks. And for face treatment, it takes about 20-30 minutes in total per session.
7. How long can you see the result?
Generally, patients will usually undergo 8-10 treatment sessions, but some clients may see differences/improvements after 1-2 sessions. It heats up and stimulate a large volume of collagen in the deeper layers of the skin. Results develop over time and tightening and lifting result can be seen in up to 3 months.
8. Which energy density should I use when do the treatment?
As you know, everyone has different physical fitness, we suggest use 3-6 levels with essence which you daily used is best. And after treatment please do a mask, ice mask, it will help you find result soon. If your skin feels dry after the treatment, do mask at least 3 times a week.
9. What gel or skin care product are you guys using?
We suggest use water-based gel/cream/lotion/essence/serum. The water-based product can better conduct energy. Oil based product is not recommended because it may cause uneven energy conduction and skin feel sudden sting often. Also, some clients will put thick gel on skin and use the system head to sweeping the product to thin, which is not recommended. You would better sweep the gel to thin with hand or tool and then use the thermage on skin.
10. What happens after treatment?
Most patients have mild redness and swelling for a few hours after the treatment. You may apply make–up to the treated area after the procedure. Results will develop over time and with subsequent treatments. Full results can be appreciated at three to six months following the last treatment. Maintenance treatments may sometimes be necessary to maintain the results.
11. Is there any downtime following treatment?
The patients may continue with their daily routine immediately after treatment. However, if the area shows small red dots, the patient should use a high-factor sunscreen (at least 30 SPF) and protect the treated area from sunlight during the entire course of treatment and for at least one month after.
Specification
Specification
| | |
| --- | --- |
| RF Probe | 1 piece of RF hand piece with 3 probes |
| RF Type | Fractional RF/Thermage RF |
| RF Frequency | 6MHz |
| RF Output Model | pulse & continue |
| Electroporation Frequency | No |
| Photon | No |
| Display | No |
| Battery | No |
| Charging time | No |
| Voltage | AC 100~240V 50/60Hz |
| Power | 30W |
| Materials | ABS plastic |
| Package Size(cm) | 30*30*15 |
| Gross Weight | 3Kg |
Shipping&Payment
Shipping
Normally express door-to-door air shipping by DHL/FEDEX is used for most of our shipments as it's fast, safe, and convenient. You can easily track your shipment online.
Orders are processed in the order they are received. An order confirmation email containing your order details will be sent. When your order ships, you will receive a confirmation email containing the shipment tracking number. For express door-to-door air shipping by DHL/FEDEX, delivery time is 3-7 business days.
We provide shipment service to over 100 countries including the USA, Canada, Australia, Chile, Ecuador, Japan, Spain, Germany, UK, Finland, etc…
We ship worldwide via courier (DHL/FEDEX/UPS), EMS, Airmail, Air cargo, or Ocean shipping. Ocean shipping delivery times are 20-40 business days, not including weekends and holidays.
If you need other shipping methods such as EMS, airmail, or air cargo, please get in touch with us for assistance.
Why not provide free shipping?
As the factory directly selling, we are offering the best price possible as we can. There is no commission fee and no hidden charges. Our pricing system is transparent and carefully calculated. For shipping costs, different countries have different shipping rates. Different package weights also result in very different shipping rates. We have a network of logistic service providers (DHL/FEDEX/UPS) which ensure the best shipping rate, fastest shipment, and reliable service. The shipping cost is automatically calculated when checking out.
Warehouse working time
: 9:00 am~ 6:pm (Monday to Friday; GMT+8).
Note:
Due to the complex of international shipment, there are common occasions where the lead time is substantially extended due to customs and local post office handling. The case of delay is particularly high during periods of public holidays, festive seasons, and adverse weather conditions. Please understand that we do try our best to dispatch orders as soon as they are received, and we thank you for remaining patient while your order is being delivered.
Payment
We accept payment by Credit Card, T/T(Wire Transfer), Western Union, and MoneyGram. After the order is placed, a confirmation email will be sent to you. Please check the email and confirm the order and delivery address. The order will be processed once you receive your confirmation. You can log in to your account and click" Orders" to check the order status. Please make sure you have sufficient information about the product and know all the terms and conditions of the purchase before making the payment. If you are not happy with the order and the product, you can ask for a refund after receiving the package. Our customer support will assist you with it.
Please note we DO NOT accept Credit Card payments for product value of a single unit over 1,500 USD. Also
COD payment is not accepted
.
For a single unit value over 1,500 USD, please choose payment by T/T, Western Union, and Moneygram. All of these payment methods are widely used for international business. Our operators are happy to take your order per phone every business day from 9 a.m. to 6 p.m (UTC).
Please
click here
to learn more about payment options and how to make payments online.
Taxes and Duties
We do not add taxes, VAT, or any other hidden charges. You pay us what you see on your invoice, for example, Goods Subtotal + Shipping Costs (does not include duties). Please find out as much as you can about import taxes in your own country before purchasing an item. In special cases, you may need to pay import duties on certain goods. For assistance on any of this, you can contact us for further assistance.
Is there any way we can avoid or reduce importation duty?
For most countries, the answer is Yes. Please contact us directly for further assistance.
Reviews
Tags
Product Questions
Total 6 question(s)
Do you need to replace the tips after so many uses.?
Question submitted by: Tammy on: 2023-03-07 04:06:20
Thanks for your question.
Sorry to tell you that this device is no longer available, you can try to browse other similar products on the website
Answer submitted by: sales on: 2023-03-07 15:31:41
Hi when will this Thermage RF device for $289.00 be available to buy ? Do you also post to Western Australia ?

Kind regards
Lemona

Question submitted by: Lemona on: 2019-11-12 10:00:31
Hi Lemona,
We are not sure about that.
If you are urgent, we'd like to suggest you consider below model, it's same technology with better quality.
https://www.ibeautymachine.com/rf-cella-portable-fractional-rf-with-3-different-heads-mini-thermage-rf.html

Answer submitted by: iBeautyMachine.com on: 2019-11-12 12:29:06
When will this be restocked?!
Question submitted by: L pham on: 2019-04-01 15:00:21
Hi L Pham,
Thanks for your inquiry.
For the therma RF, it's out of stock now, we are not sure when will it be available.
In this situation, we'd like to introduce another similar function machine to you:
https://www.ibeautymachine.com/rf-cella-portable-fractional-rf-with-3-different-heads-mini-thermage-rf.html
Answer submitted by: iBeautyMachine.com on: 2019-04-01 17:52:16
Can you use this on your eyelids for hooded/saggy skin on upper eyelids?
Question submitted by: LP on: 2019-03-09 17:47:57
It can be used around the eye, but we don't suggest you use it on the eyelids
Answer submitted by: Customer Support on: 2019-03-14 18:16:43
Are all the tip head of the thermage included?
Question submitted by: Margaret ver on: 2018-04-12 13:52:31
It contains 3pcs of heads
Answer submitted by: John Chang on: 2018-04-12 16:33:05
Do you have any instruction how to use this machine? Is there anything need to have to use this machine? If yes, do you sell it on your website?


Question submitted by: Silvia Adiguna on: 2016-11-25 14:46:23
Ask a question
1 Point

for writing a tag for this product You will earn
You may also be interested in the following product(s)
*Disclaimer: Results may vary by individual. There is no guarantee of specific results.
not bad
*Use this machine to make my skin firmer. After use, it is easier to absorb with other skin care products. I really like it, thanks for the great device.
works very well
*Very impressed with the results I got using this machine. My face feels smoother and tighter. The customer support is very good as they answered my questions very quickly. Very happy with this purchase. will recommend to my friends.
Alexus 274 10 2017 10:00
pleased with the product
*I find myself pleased with the product , buy to help me with sagging chin skin. The machine is a very light and easy to carry. I started my sections fulfill myself radio frequency in the comfort of my home. I hope soon to have great results. So far I am very satisfied with the machine
Janet 294 10 2016 12:19
A little machine that delivers great result
*I have searched a long time on net and at last chosen ibeautymachine , then purchased this machine after reading many articles and reviews. I was lucky enough to receive my instructions in English , they provide excellent customer service. I had a surgeon & I have been diligent that there is only the smallest trace of a scar. After my first use the next day my skin felt tighter & it looked like I was wearing foundation. I have now used it 6 times & I can't even see where the incision was made on my face. You do need a conductive gel for it to work. I am so happy with my purchase.
Jenna 263 09 2016 12:21
Great product and value!
*"Almost one month in so far so good". its my wife that uses it she loves it. Awesome for private use. This is not a sponsored review nor am I liable for different results.
shannon 203 07 2016 12:17
seems good for my sagging skin
*Receive the device very quick, in a good package. i am 48 years old and want to remove the crow's feet wrinkles and also sagging skin. Have done 4 treatments, i can not see the obvious result, but i can feel that my skin become brightening, this makes me happy, i will do more treatments and wait for the result. Thanks.