Description
Details
D-cool is a multi-functional device with Heating, Cooling, and Electroporation functions. Heating enables to open pores and cooling helps relax your skin by reducing skin temperature and inflammation after treatments. Also, the electroporation function lets solutions penetrate deep into the skin with significantly more product penetration than Sonophoresis and Iontophoresis.
Features
Advanced Cooling & Heating function (Cooling 0℃ ~ -15℃ / Heating 0℃ ~ 40℃)
Enable to apply any kind of solutions
Penetration of the delivered compounds is above 90%
Decreased puffiness, increased collagen and elastin production, firming/lifting and regenerating effect
Restoring water balance in the skin
Alternative to mesotherapy
Non-invasive procedure: Low voltage stimulates the skin to open the dermal water channels and allows for high actives absorption with no to a little discomfort
Short treatment time: Dramatic results in a comfortable 25-35 minutes, possibly over lunch, for active women and men
No downtime: Skin looks greatly improved immediately after the treatment, and you can go back to your normal activities
No risk of scarring: Because the skin is never broken in the procedure, scarring and other abrasive effects are not possible
D-COOL delivers a small electric pulse to cells and tissues for a brief time that makes micro holes in the skin surface temporarily. Through these micro holes, topical solutions can be penetrated into the skin easily and deeply.
Introduction
D-Cool is the top performer in post-care facial applications. It utilizes heat to open the pores, and electromagnetic forces to saturate the skin layer with nourishing solutions to accelerate healing and rejuvenate the skin directly.
After the electromagnetic application of nourishing solutions, customized to your face and skin and their situation, D-Cool uses coolness to help close the pores, lock in the absorption of nutrients, and tighten the skin.
Technology
Cold and Hot Therapy
Cold therapy reduces the temperature of the skin rapidly, which repairs and relieves tension and repression.
Hot therapy opens pores, promotes blood circulation, accelerates metabolism, and eliminates toxins.
The cold and hot effect improves skin elasticity, firm skin tissue, smooth wrinkles, and removes toxins.
Electroporation
Electroporation is a way (method) of transmitting substances that hold a certain amount of molecules (below 40,000 Dalton) through the cell membrane. Electronic pulse manipulates (disturbs) phospholipids bilayer and it makes temporary pores at skin layer. Then, the drugs penetrate into the internal cell through the pores. The principle of electroporation is that pore is closed when the electronic pulse stop.
Electroporation does not change the biological structures and functions of cells and is used as a non-chemical way of transmitting DNA and various outside substances into the living cells.
Design
Combined 3 technologies in one wand.
Cold Function: Lowest up to -15℃; Hot Function: Highest up to 40℃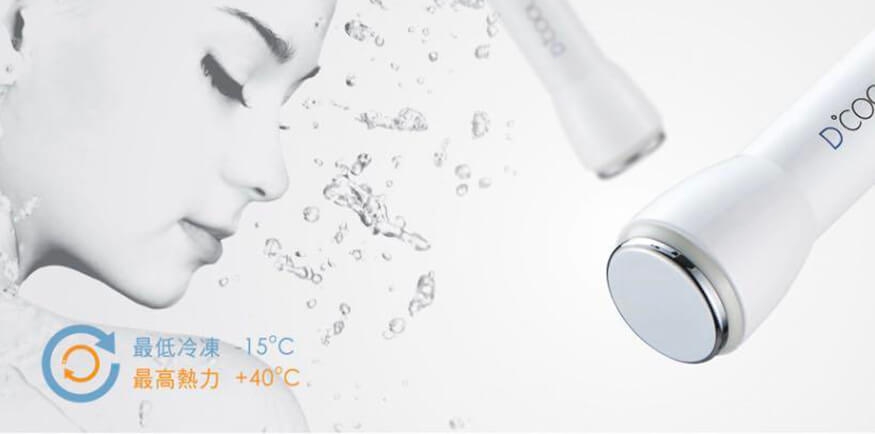 User-Friendly Interface
Comparison
Iontophoresis VS Electroporation
1) Iontophoresis
Iontophoresis is a method that infiltrates active substances with polarity, such as Ion, into the skin by using electrical polarity. When the electrode with the same polarity gets in contact with the skin after applying active substances with polarity into the skin, active substances may infiltrate into the skin due to the pushing forces between electrodes. For Iontophoresis, a very small amount of currents under 0.5 mA/cm2 per skin surface is generally used.
2) Electroporation
Electroporation is a typical method that may infiltrate active substances, of large molecular weight into the skin, without polarity. When applying a short yet strong electric pulse into the skin surface or the cell membrane, momentary pores are created and active substances start to infiltrate. Since the pore returns to its original state after eliminating the electric pulse, it may infiltrate active substances without any side effects.
Operation
1. Connect all the lines.
2. Put water into the device.
3. Turn on the power switch.
4. Set temperature.
5. Press the multifunctional key to start.
6. Set RF EMS intensity: press the multifunctional key.
Application
1. Promote skincare products absorption.
2. Improve skin elasticity.
3. Skin rejuvenation.
4. Anti-wrinkle.
5. Shrink pores.
6. Promote blood circulation.
7. Eliminate eye dark circle and pouch.
Result
Specification
Specification
| | |
| --- | --- |
| Parameters | Power:100W Diameter of transducer: 3.7cm Machine size: 28*18*25cm Intensity: 0~50 Mode: Pluse+, Pluse- Pulse: 5KHz (Active : 100us / Rest : 100us) Temperature: -15 ℃ ~ 40 ℃ |
| Voltage | AC 110V/220V,60Hz/50Hz |
| ODM&OEM | Yes |
Shipping&Payment
Shipping
Normally express door-to-door air shipping by DHL/FEDEX is used for most of our shipments as it's fast, safe, and convenient. You can easily track your shipment online.
Orders are processed in the order they are received. An order confirmation email containing your order details will be sent. When your order ships, you will receive a confirmation email containing the shipment tracking number. For express door-to-door air shipping by DHL/FEDEX, delivery time is 3-7 business days.
We provide shipment service to over 100 countries including the USA, Canada, Australia, Chile, Ecuador, Japan, Spain, Germany, UK, Finland, etc…
We ship worldwide via courier (DHL/FEDEX/UPS), EMS, Airmail, Air cargo, or Ocean shipping. Ocean shipping delivery times are 20-40 business days, not including weekends and holidays.
If you need other shipping methods such as EMS, airmail, or air cargo, please get in touch with us for assistance.
Why not provide free shipping?
As the factory directly selling, we are offering the best price possible as we can. There is no commission fee and no hidden charges. Our pricing system is transparent and carefully calculated. For shipping costs, different countries have different shipping rates. Different package weights also result in very different shipping rates. We have a network of logistic service providers (DHL/FEDEX/UPS) which ensure the best shipping rate, fastest shipment, and reliable service. The shipping cost is automatically calculated when checking out.
Warehouse working time
: 9:00 am~ 6:pm (Monday to Friday; GMT+8).
Note:
Due to the complex of international shipment, there are common occasions where the lead time is substantially extended due to customs and local post office handling. The case of delay is particularly high during periods of public holidays, festive seasons, and adverse weather conditions. Please understand that we do try our best to dispatch orders as soon as they are received, and we thank you for remaining patient while your order is being delivered.
Payment
We accept payment by Credit Card, T/T(Wire Transfer), Western Union, and MoneyGram. After the order is placed, a confirmation email will be sent to you. Please check the email and confirm the order and delivery address. The order will be processed once you receive your confirmation. You can log in to your account and click" Orders" to check the order status. Please make sure you have sufficient information about the product and know all the terms and conditions of the purchase before making the payment. If you are not happy with the order and the product, you can ask for a refund after receiving the package. Our customer support will assist you with it.
Please note we DO NOT accept Credit Card payments for product value of a single unit over 1,500 USD. Also
COD payment is not accepted
.
For a single unit value over 1,500 USD, please choose payment by T/T, Western Union, and Moneygram. All of these payment methods are widely used for international business. Our operators are happy to take your order per phone every business day from 9 a.m. to 6 p.m (UTC).
Please
click here
to learn more about payment options and how to make payments online.
Taxes and Duties
We do not add taxes, VAT, or any other hidden charges. You pay us what you see on your invoice, for example, Goods Subtotal + Shipping Costs (does not include duties). Please find out as much as you can about import taxes in your own country before purchasing an item. In special cases, you may need to pay import duties on certain goods. For assistance on any of this, you can contact us for further assistance.
Is there any way we can avoid or reduce importation duty?
For most countries, the answer is Yes. Please contact us directly for further assistance.
Reviews
Tags
Product Questions
Total 1 question(s)
Can you please help me? My machine says ERROR100, ERROR200 and ERROR800. What can I do? thank you for helping.
Question submitted by: Cecilie Eide on: 2022-12-27 22:58:15
Please contact our support team for further help if you have the order number
Answer submitted by: Sales on: 2022-12-28 13:23:31
Ask a question
1 Point

for writing a tag for this product You will earn