Description
Details
Introduction
The Strong Numb™ anesthetic cream is widely used in clinics for laser treatment, micro pigmentation, skin micro-needling, hair removal, moles, acupuncture, removal of nevus of Ota, removing freckles, skin peeling, skin cleaning, removal of warts, permanent make-up., surgical operations, laser therapy, laser removal of acne and a variety of other cosmetic treatments.
Advantages
High concentration of lidocaine - 10.56%;
Fast and effective anesthesia of the skin;
Only takes around 25 to 35 minutes to get the numb effect, while other products take over 1 hour
Perfect for injections, micro-needling, mesotherapy, and other cosmetic treatments;
Low consumption (not more than 2 ml).
Pharmacological actions
Lidocaine cream works by temporarily blocking the pathway of pain signals along nerves. Lidocaine cream does this by stopping the sodium from entering the nerve ending at the site of the pain. This prevents an electrical signal from building up and passing along the nerve fibers to the brain.
Pharmacokinetic
Lidocaine may be absorbed following topical administration to mucous membranes, its rate and extent of absorption depend upon the specific site of application, duration of exposure, concentration, and the total dosage. You may experience reddening of the procedure area.
Ingredient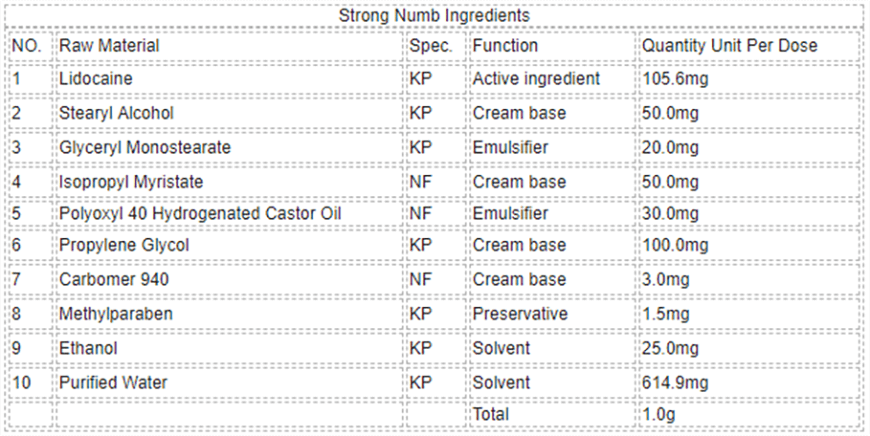 Color
White cream
Indication
Effective topical anesthetic during a cosmetic procedure. It quickly soothes and numbs the area.
Dosage
Apply 0.25~0.66g cream before the cosmetic procedure. Use minimum effective amount, and dose time of application may be different among individuals. Do not exceed applying 1.74g of cream and 187mg of lidocaine within 24 hours.
Storage
Keep out of the reach of Childhood hand
Store at room temperature (1℃~30℃)
Protect from light
Do not freeze
Do not throw it in the fire after use
Usage
Wash the area receiving tattoo or laser treatment with soap and water. Dry area completely.
Apply a thick amount of numbing cream to the area and rub it thoroughly.
After rubbing into the skin, apply a 2nd heavy layer of cream (1/8" or 3-5 mm thick) over the area.
Cover the cream with plastic wrap (saran wrap) and keep warm. The heat under the plastic wrap helps activate the cream and keeps the cream from drying out.
Leave cream and wrap in place for 10 to 35 minutes before the procedure. For long procedures lasting hours over large areas; apply numbing cream over the entire work area, then remove in sections as the procedure progresses.
Skin typically remains numb for 1 - 4 hours once the cream is removed from numbed skin depending on skin type and location on the body.
Warning
Not to be used on children under 6 years old.
Allergy to lidocaine or other local anesthetics
DO NOT apply the cream to cuts, grazes, wounds, areas where there is a skin rash or eczema, in or near the eyes, ears, mouth, (inside) nose or anus (back side), or the genitals of children.
Adults and children 6 years of age and older: Apply to affected areas no more than 2 times a day. Children under years please consult a physician.
Tell your prescriber or health care professional about other skin products you are using. Do NOT use this topical cream at the same site as other skin preparations without medical advice.
If your side effects bother you, or if you experience any unusual effects, stop using and contact your medical provider immediately.
DO NOT use if Patients with trauma or inflammation of the application
DO NOT use If patients are pregnancies.

DO NOT use for Liver, kidney diseased patients

This medicine is for external use only, do not eat

I

t is recommended that you do not apply a row on the same site
Adverse Reactions
Its possible side effects are likely to include swelling or redness at the application site, unusual sensations on the skin, or pale skin. Severe to rare side effects may include allergic reactions like hives, rash, itchiness, facial swelling, and difficulty in breathing or tightness in the chest.
Shipping
The numb cream is a liquid product that is restricted by shipping regulations. If you order it together with other products, the numb cream will be shipped separately. Please kindly notice that.
Customization Service
According to the feedback of our customers, we have decided to provide the customization service of the numbing cream from now on. This means that you can customize the logo, the color of the canned, and the volume. For the volume, usually, we provide 10g, 30g, 50g, 80g, and 100g. For the color of the canned, normally we provide white, black, pink, and light blue. As mentioned to the logo, you should design the label by yourself and then we can paste it on the outer of the canned.
Of course, there is minimum order for the service, for 15g and 30g, the minimum order is 1000pcs, for 50g and 80g, the minimum order is 500pcs, and for 100g, the minimum order is 200pcs. For more details, please feel free to email at support@ibeautymachine.com
Specification
Shipping&Payment
Shipping
1, Air Express (DHL/FedEx/UPS)
Delivery time: 5-7 business days.
Delivery country: over 100 countries including the USA, Canada, Australia, Chile, Ecuador, Japan, EU, etc…
Importation duty: The buyer covers importation duty depending on the destination's customs regulations.


2, Free shipping* (~15days) for an order over 350 US dollars after discount or coupon/promo code
Delivery time: about 15 days; online tracking information will be updated after 7 days.
Delivery country: currently we only deliver to the USA, Canada, Australia, the UK, New Zealand. EU, Japan, South Korea, Singapore, China, Malaysia and Vietnam.
Importation duty: iBeautyMachine.com covers importation duty.
Exclusive: oversize items measured either by weight or dimension (usually over 35 KG), special items such as gas or liquid.
Remote regions may cause extra for delivery to the door.
Please refresh the checkout page if you change the cart in case the free shipping option doesn't show up.
3, Air Economy
Delivery time: For items below 2KG, it takes about 21~30 days;
Delivery country: over 100 countries including the USA, Canada, Australia, Chile, Ecuador, Japan, EU, etc.
Importation duty: iBeautyMachine.com covers importation duty.
NOTE:

Warehouse working time

: 9:00 am~ 6:pm (Monday to Friday; GMT+8).

Due to the complex of international shipment, there are common occasions where the lead time is substantially extended due to customs and local post office handling. The case of delay is particularly high during periods of public holidays, festive seasons, and adverse weather conditions. Please understand that we do try our best to dispatch orders as soon as they are received, and we thank you for remaining patient while your order is being delivered.
Payment
We accept payment by Credit Card, T/T(Wire Transfer), Western Union, and MoneyGram.
Please note: We DO NOT accept Credit Card payments for product value of a single unit over 1,500 USD.
If you are not happy with the order and the product, you can ask for a refund after receiving the package. Our customer support will assist you with it.
Taxes and Duties
We do not add taxes, VAT, or any other hidden charges. You pay us what you see on your invoice, for example, Goods Subtotal + Shipping Costs (does not include duties). Please find out as much as you can about import taxes in your own country before purchasing an item. In special cases, you may need to pay import duties on certain goods. For assistance on any of this, you can contact us for further assistance.

Reviews
Tags
Product Questions
1 Point

for writing a tag for this product You will earn
You may also be interested in the following product(s)
*Disclaimer: Results may vary by individual. There is no guarantee of specific results.
Works Great
*Works great just takes a while to get. Slow Shipping.
We are sorry for the delayed shipment due to covid-19 hits, what's worse, the bad weather in the US makes it difficult to ship at that time. Normally it should be delivered within one week if everything goes well.
Please contact us for a discount coupon as compensation if you need to place any orders in the future.