Description
Details
EMSculpt mini is the latest Korean-designed technology and EMSculpt PRO offers clinics the latest high-quality technology at a reasonable cost to business owners.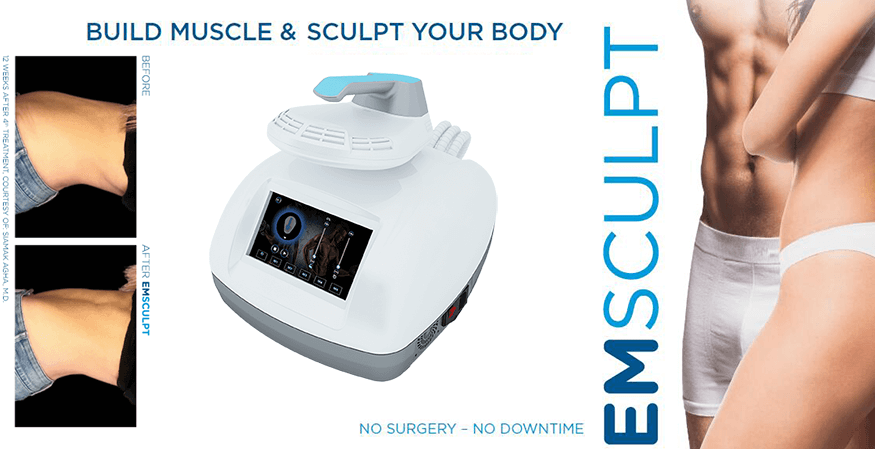 Features
FDA cleared for 5 body parts
Efficacy and safety have been tested in many multicentre studies using the most reputable scientific methods (MRI, CT, US, and Histology)
Builds muscle
Burns fat
Non-invasive buttock lifting procedure
No surgery
No anesthesia
Suitable for everyone
only a 30-minute walk in walk out procedure
Only 4 sessions needed 2-3 days apart
Feels like an intensive workout
No downtime
Instant results but gets better after two to four weeks
16% average increase in muscle mass
19% on average fat reduction
RF Function Optional

Introduction
EMSculpt MINI is the 4th generation machine using non-invasive technology using HI-EMT(High-Intensity Electromagnetic Trainer) energy to promote the muscles to contract at their peak power and ability. This high-intensity muscle workout leads to the remodeling and enhancement of muscles, as well as effective fat burning.
The innovative EMSculpt MINI system is a non-invasive, pain-free procedure that is able to tone and lift the buttocks without the need for excessive exercise or invasive surgery.
What is EMS sculpting?
Electric muscle stimulation or electric magnetic stimulation (EMS), a technology used to reduce fat and build muscle, has regained popularity in recent months.
It is a medical technology that is used in aesthetic medicine, urology, and gynecology and uses focused electromagnetic fields with safe intensity levels.
The electromagnetic fields pass non-invasively through the body and interact with motor neurons, which subsequently trigger muscle contractions.
This non-invasive body-contouring technology not only burns fat but also builds muscle, while at the same time improving strength and endurance levels.
How does it work?
Emsculpt uses cutting-edge technology to tone your body and help eliminate fat. It uses electromagnetic energy to get the muscles to contract in the area you're treating. The technology induces 20,000 supramaximal muscle contractions not achievable through voluntary contractions— compared to doing 20,000 full contraction crunches or squats in 1 session.
Technology
Non-invasive HIFEM® (High-Intensity Focused Electromagnetic) technology induces the body to supramaximal muscle contractions something not achieved voluntarily.
When the muscle is exposed to supramaximal contractions, the muscle is not used to the high intensity and is forced to adapt.
The muscle responds with a deep remodeling of its inner structure that results in muscle building and burning fat.
A unique combination of RF and HIFEM (Optional)
Procedures primarily addressing fat reduction and muscle building non-invasively have been two separate worlds since their inception due to the clinical and technical interferences. EMSculpt PRO generates RF and HIFEM energies simultaneously using dual-field applicators.
The RF component delivers different levels of heat to underlying structures; skin, fat, and muscle. HIFEM is a procedure based on high-intensity magnetic fields that elicit external muscle contractions of supra-physiological nature. The unique combination of muscle contractions and heating by EMSculpt PRO has multiple synergistic effects making the simultaneous treatment more effective than any standalone or consecutive application.
Application
Cellulite Reduction
Melt Fat Cells
Muscle Building
Non-invasive Buttock Lifting
Body Shaping
You cannot have EMSCULPT if the following conditions are present:
Pregnancy or breastfeeding
Cardiac pacemaker, defibrillator, implanted neurostimulator, drug pump, or electronic implanted device
Metal rods, pins, plates, metal IUD, or orthopedic implants/joints
Result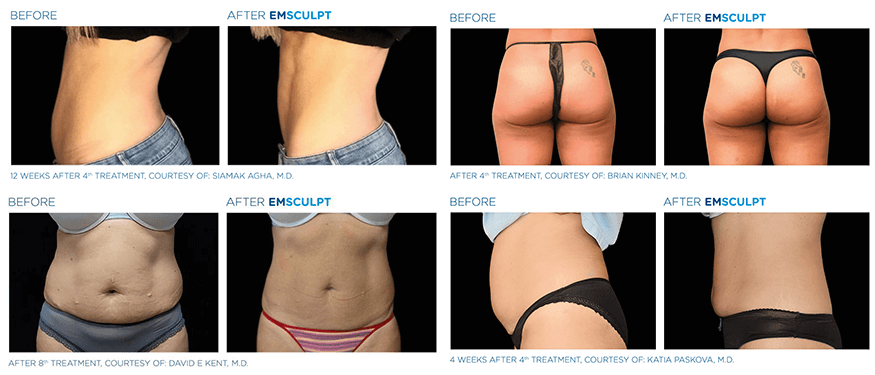 Product FAQ
What is the advantage of EMS sculpting?
EMSCULPT is the world's only non-invasive body shaping procedure to simultaneously build muscle and burn fat. In addition, the EMSCULPT creates the world´s first non-invasive butt-lift procedure.
What is the TREATMENT time?
A 30-minute treatment with a minimum of 4 sessions scheduled 2-3 days apart. Your provider will help you create a treatment plan tailored to your specific goals.
What does it FEEL like?
The EMSCULPT procedure feels like an intensive workout. You can lay down and relax during the treatment.
Is there any DOWNTIME? Any pre/post-treatment preparation?
The EMSCULPT is non-invasive and requires no recovery time or any pre/post treatment preparation.
Does it really work?
YES! The EMSCULPT has been clinically tested for safety and efficacy through seven independent US-based clinical studies.
How fast will I see results?
You begin to feel tangible results right after the treatment. Positive results are usually reported two to four weeks after the last session and continue to improve for several weeks following the treatments.
Specification
Specification
| | |
| --- | --- |
| Voltage | AC 220V/50-60Hz or 110V/50-60Hz |
| Materials | ABS plastic and medical grade stainless steel |
| Package Size(cm) | 136cm*46cm*48cm |
| Gross Weight | 8.5Kg |
| ODM&OEM | Yes |
Shipping&Payment
Shipping
1, Air Express (DHL/FedEx/UPS)
Delivery time: 5-7 business days.
Delivery country: over 100 countries including the USA, Canada, Australia, Chile, Ecuador, Japan, EU, etc…
Importation duty: The buyer covers importation duty depending on the destination's customs regulations.


2, Free shipping* (~15days) for an order over 350 US dollars after discount or coupon/promo code
Delivery time: about 15 days; online tracking information will be updated after 7 days.
Delivery country: currently we only deliver to the USA, Canada, Australia, the UK, New Zealand. EU, Japan, South Korea, Singapore, China, Malaysia and Vietnam.
Importation duty: iBeautyMachine.com covers importation duty.
Exclusive: oversize items measured either by weight or dimension (usually over 35 KG), special items such as gas or liquid.
Remote regions may cause extra for delivery to the door.
Please refresh the checkout page if you change the cart in case the free shipping option doesn't show up.
3, Air Economy
Delivery time: For items below 2KG, it takes about 21~30 days;
Delivery country: over 100 countries including the USA, Canada, Australia, Chile, Ecuador, Japan, EU, etc.
Importation duty: iBeautyMachine.com covers importation duty.
NOTE:

Warehouse working time

: 9:00 am~ 6:pm (Monday to Friday; GMT+8).

Due to the complex of international shipment, there are common occasions where the lead time is substantially extended due to customs and local post office handling. The case of delay is particularly high during periods of public holidays, festive seasons, and adverse weather conditions. Please understand that we do try our best to dispatch orders as soon as they are received, and we thank you for remaining patient while your order is being delivered.
Payment
We accept payment by Credit Card, T/T(Wire Transfer), Western Union, and MoneyGram.
Please note: We DO NOT accept Credit Card payments for product value of a single unit over 1,500 USD.
If you are not happy with the order and the product, you can ask for a refund after receiving the package. Our customer support will assist you with it.
Taxes and Duties
We do not add taxes, VAT, or any other hidden charges. You pay us what you see on your invoice, for example, Goods Subtotal + Shipping Costs (does not include duties). Please find out as much as you can about import taxes in your own country before purchasing an item. In special cases, you may need to pay import duties on certain goods. For assistance on any of this, you can contact us for further assistance.

Reviews
Tags
Product Questions
Total 1 question(s)
Hello.
Can I choose the voltage?
I want a 220V machine.
Question submitted by: YUSUKE KOGO on: 2023-03-23 21:50:20
Yes, we can make the machine workable with the 220V voltage. You just need to leave a note when placing the order, or email us instead.
Answer submitted by: sales on: 2023-03-23 21:56:09
Ask a question
1 Point

for writing a tag for this product You will earn