Description
Details
Introduction
Semaglutide, the active ingredient in Ozempic, has also been approved by the FDA as a medication for chronic weight management.
Semaglutide is a medication used for weight loss that works by reducing appetite and increasing feelings of fullness, which helps people eat less and lose weight. It is administered by injection once a week under the skin.
Clinical trials have shown that semaglutide can lead to significant weight loss in people who are overweight or obese. In one study, participants who took semaglutide lost an average of 15% of their body weight over a 68-week period.
Why Ozempic Semaglutide is popular for weight management now?
Ozempic is available in multiuse pens with needles included
The Ozempic injection is supplied as a clear, colorless solution in a prefilled, disposable, single-patient-use pen in the following packaging configurations:
Ozempic Dispensing Guide
A quick reference guide for details of Ozempic pen packs, including NDC, strength, and contents.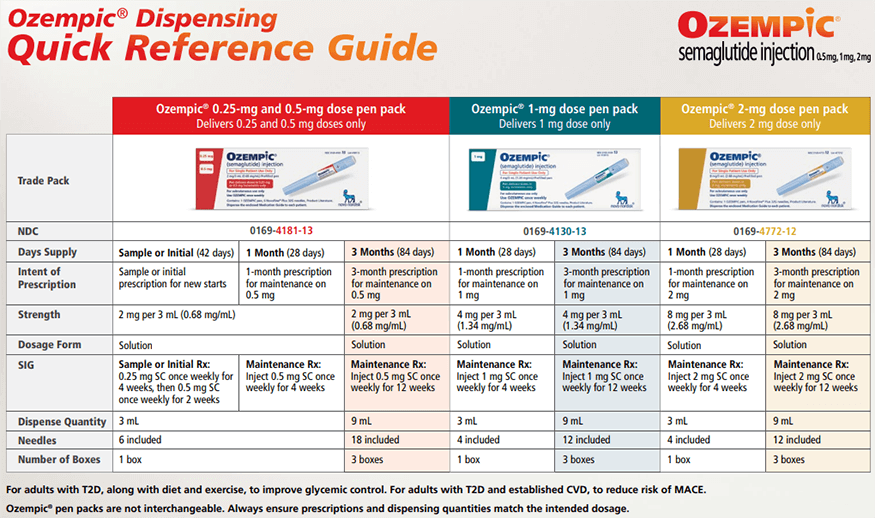 Please click here for Ozempic Prescribing Information, including Boxed Warning.
Ozempic Pen Instructions for Use
An overview for patients on how to use the Ozempic Pen, this easy-to-follow video illustrates how they can administer Ozempic.
You may also view illustrated step-by-step instructions.
Ozempic Pen Instructions for Use
Please click here for Ozempic Prescribing Information, including Boxed Warning
How to Store Ozempic Pen:
Store your new, unused Ozempic pens in the refrigerator at 2℃ to 8℃
Store your pen in use for 8 weeks between 15℃ to 30℃ or in a refrigerator at 2℃ to 8℃.
The Ozempic pen you are using should be thrown away after 8 weeks, even if it still has Ozempic left in it.
Do not freeze Ozempic. Do not use Ozempic if it has been frozen.
Unused Ozempic pens may be used until the expiration date printed on the label if kept in the refrigerator.
Keep Ozempic away from heat and out of the light.
Keep Ozempic and all medicines out of the reach of children.
Indications and Limitations of Use
Ozempic (semaglutide) injection 0.5 mg, 1 mg, or 2 mg is indicated as an adjunct to diet and exercise to improve glycemic control in adults with type 2 diabetes mellitus and to reduce the risk of major adverse cardiovascular (CV) events (CV death, nonfatal myocardial infarction, or nonfatal stroke) in adults with type 2 diabetes mellitus and established CV disease.
Ozempic has not been studied in patients with a history of pancreatitis. Consider other antidiabetic therapies in patients with a history of pancreatitis.
Ozempic is not indicated for use in patients with type 1 diabetes mellitus.
Important Safety Information cont.
Contraindications
Ozempic is contraindicated in patients with a personal or family history of MTC or in patients with MEN 2, and in patients with a hypersensitivity reaction to semaglutide or to any of the excipients in Ozempic. Serious hypersensitivity reactions including anaphylaxis and angioedema have been reported with Ozempic.
Warnings and Precautions
Risk of Thyroid C-Cell Tumors:
Patients should be referred to an endocrinologist for further evaluation if serum calcitonin is measured and found to be elevated or thyroid nodules are noted on physical examination or neck imaging.
Pancreatitis:
Acute and chronic pancreatitis have been reported in clinical studies. Observe patients carefully for signs and symptoms of pancreatitis (persistent severe abdominal pain, sometimes radiating to the back with or without vomiting). If pancreatitis is suspected, discontinue Ozempic promptly, and if pancreatitis is confirmed, do not restart.
Diabetic Retinopathy Complications:
In a 2-year trial involving patients with type 2 diabetes and high cardiovascular risk, more events of diabetic retinopathy complications occurred in patients treated with Ozempic (3.0%) compared with placebo (1.8%). The absolute risk increase for diabetic retinopathy complications was larger among patients with a history of diabetic retinopathy at baseline than among patients without a known history of diabetic retinopathy.
Rapid improvement in glucose control has been associated with a temporary worsening of diabetic retinopathy. The effect of long-term glycemic control with semaglutide on diabetic retinopathy complications has not been studied. Patients with a history of diabetic retinopathy should be monitored for progression of diabetic retinopathy.
Never Share an Ozempic Pen Between Patients:
Ozempic pens must never be shared between patients, even if the needle is changed. Pen-sharing poses a risk for transmission of blood-borne pathogens.
Hypoglycemia:
Patients receiving Ozempic in combination with an insulin secretagogue (eg, sulfonylurea) or insulin may have an increased risk of hypoglycemia, including severe hypoglycemia. Inform patients using these concomitant medications of the risk of hypoglycemia and educate them on the signs and symptoms of hypoglycemia.
Acute Kidney Injury:
There have been postmarketing reports of acute kidney injury and worsening of chronic renal failure, which may sometimes require hemodialysis, in patients treated with GLP-1 receptor agonists. Some of these events have been reported in patients without known underlying renal disease. A majority of the reported events occurred in patients who had experienced nausea, vomiting, diarrhea, or dehydration. Monitor renal function when initiating or escalating doses of Ozempic in patients reporting severe adverse gastrointestinal reactions.
Hypersensitivity: Serious hypersensitivity reactions (eg, anaphylaxis, angioedema) have been reported in patients treated with Ozempic. If hypersensitivity reactions occur, discontinue use of Ozempic; treat promptly per standard of care, and monitor until signs and symptoms resolve. Use caution in a patient with a history of angioedema or anaphylaxis with another GLP-1 receptor agonist.
Acute Gallbladder Disease:
Acute events of gallbladder disease such as cholelithiasis or cholecystitis have been reported in GLP-1 receptor agonist trials and postmarketing. In placebo-controlled trials, cholelithiasis was reported in 1.5% and 0.4% of patients treated with Ozempic 0.5 mg and 1 mg, respectively, and not reported in placebo-treated patients. If cholelithiasis is suspected, gallbladder studies and appropriate clinical follow-up are indicated.
Specification
Specification
| | |
| --- | --- |
| Voltage | No |
| Materials | No |
| Package Size(cm) | No |
| Gross Weight | 0.2Kg |
| ODM&OEM | No |
Shipping&Payment
Shipping
Normally express door-to-door air shipping by DHL/FEDEX is used for most of our shipments as it's fast, safe, and convenient. You can easily track your shipment online.
Orders are processed in the order they are received. An order confirmation email containing your order details will be sent. When your order ships, you will receive a confirmation email containing the shipment tracking number. For express door-to-door air shipping by DHL/FEDEX, delivery time is 3-7 business days.
We provide shipment service to over 100 countries including the USA, Canada, Australia, Chile, Ecuador, Japan, Spain, Germany, UK, Finland, etc…
We ship worldwide via courier (DHL/FEDEX/UPS), EMS, Airmail, Air cargo, or Ocean shipping. Ocean shipping delivery times are 20-40 business days, not including weekends and holidays.
If you need other shipping methods such as EMS, airmail, or air cargo, please contact us for assistance.
Why not provide free shipping?
As the factory directly selling, we are offering the best price possible as we can. There is no commission fee and no hidden charges. Our pricing system is transparent and carefully calculated. For shipping costs, different countries have different shipping rates. Different package weights also result in very different shipping rates. We have a network of logistic service providers (DHL/FEDEX/UPS) which ensure the best shipping rate, fastest shipment, and reliable service. The shipping cost is automatically calculated when checking out.
Warehouse working time
: 9:00 am~ 6:pm (Monday to Friday; GMT+8).
Note:
Due to complex of international shipment, there are common occasions where the lead time is substantially extended due to custom and local post office handling. The case of delay is particularly high during periods of public holidays, festive seasons, and adverse weather conditions. Please understand that we do try our best to dispatch orders as soon as they are received, and we thank you for remaining patient while your order is being delivered.
Payment
We accept payment by Credit Card, Paypal, T/T(Wire Transfer), Western Union, and MoneyGram. After the order was placed, a confirmation email will be sent to you. Please check the email and confirm the order and delivery address. The order will be processed once receiveing your confirmation. You can log in to your account and click" Orders" to check the order status. Please make sure you have sufficient information about the product and know all the terms and conditions of the purchase before making the payment. If you are not happy with the order and the product, you can ask for a refund after receiving the package. Our customer support will assist you with it.
Please note we DO NOT accept Credit Card or Paypal payments for product value of a single unit over 1,500USD. Also
COD payment is not accepted
.
For sing unit value over 1,500USD, please choose payment by T/T, Western Union, and Moneygram. All of these payment methods are widely used for international business. Our operators are happy to take your order per phone every business day from 9 a.m. to 6 p.m (UTC).
Please
click here
to learn more about payment options and how to make payments online.
Taxes and Duties
We do not add taxes, VAT, or any other hidden charges. You pay us what you see on your invoice, for example, Goods Subtotal + Shipping Costs (does not include duties). Please find out as much as you can about import taxes in your own country before purchasing an item. In special cases, you may need to pay import duties on certain goods. For assistance on any of this, you can contact us for further assistance.
Is there any way we can avoid or reduce importation duty?
For most countries, the answer is Yes. Please contact us directly for further assistance.
Reviews
Tags
Product Questions
1 Point

for writing a tag for this product You will earn
You may also be interested in the following product(s)